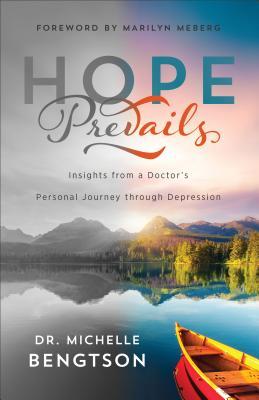 Dr. Michelle Bengston is a neuropsychologist who has worked with many clients suffering depression. When she went through her own personal experience with depression, she discovered some missing elements in the treatment of depression. This book, "Hope Prevails" is her story through depression and what she learned in the process.
I really enjoyed this book as a whole. Dr. Bengston did a wonderful job of sharing her story and weaving Scripture throughout. One of the primary focus of the book was to encourage the sufferer of depression to take captive every thought--learn to recognize the lies that we have believed and replace them with the truth. It's an excellent thought that everyone, not just those struggling with depression, can take more to heart. With a heavy emphasis on the role of faith in finding healing from depression, she encourages memorizing Scripture to truly immerse yourself in the words of truth from the Bible. At the end of each chapter, she includes some reflective questions that are great to go through on your own, but would be even better with a close friend or counselor. She also shares some songs that have been instrumental in her journey that may be beneficial for the reader.
This was an excellent book that showcases how spiritual life factors into depression. The questions at the end of each chapter lend themselves to deeper thought and discussion. There is much thought-provoking material captured in this book. With depression so prevalent in society today, Dr. Bengston offers unique, refreshing insights that many will find helpful in conjunction with other treatment and self-care techniques.
(I've received this complimentary book through Revell Books in exchange for a review.
A positive review was not required and the views expressed in my review are strictly my own.)