I'm linking up with
Modern Mrs. Darcy
for this month's quick lit, where I share short and sweet reviews of a few books I've read in the past month. You can also find me over at
Goodreads
if you are interested in other books I've read or reviewed.
"Home is Where My People Are" by Sophie Hudson. This memoir takes the reader on a journey through Hudson's life, particularly focusing on how she discovered that home isn't necessarily a place but rather the people around you. Her honesty shines through as she shares her story in such a relatable way. I enjoyed much of this book, but I found the frequent parenthetical comments and bits that were in all caps to be a bit annoying and over the top.
"Before the Fall" by Noah Hawley. Sixteen minutes into a flight, a private plane crashes into the ocean. The only survivors are painter Scott Burroughs and four-year-old JJ Bateman. With much speculation as to what caused the crash, Scott finds himself struggling to piece together his memories of the events leading directly up to the crash. The book takes the reader on journey between the present post-crash day and sharing the back stories of each passenger on the plane. It's a good read with a lot of intrigue, but there is a bit too much gratuitous foul language for my taste.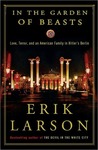 "In the Garden of Beasts" by Erik Larson. 1933 Germany was the beginning of Hitler's brutal reign in Germany. Things were beginning to look grim in Germany, but the rest of the world was mostly unaware of events happening or simply chose to ignore it and hope it would get better. William Dodd became the U.S. ambassador to Germany that year and was thrust into a tense and very difficult situation. His family joined him during his stint in Germany. Daughter Martha was initially enamored by what she saw in Berlin, but became more disillusioned as she began to witness what was truly happening. Dodd himself was initially optimistic that he could help keep the peace diplomatically, but everything drastically changed during the Night of the Long Knives. This book is a fascinating look at how the world failed to recognize and act against this horrifying dictator.

"The Secret Keeper" by Kate Morton. At age 16, Laurel Nicolson witnesses from a distance a horrible crime involving her mother. She and her parents never speak of it, resulting in a secret that has been kept for fifty years. As her mother approaches the end of her life, Laurel is determined to get the bottom of the story and find out exactly what happened. The book splits the story into the present day and the past, taking the reader on a journey through time beginning in pre-WWII England, continuing through the London blitz, and beyond. The ending was spectacular with a twist I never saw coming. Absolutely loved this book and can't wait to read another by Morton.
"Luck, Love, and Lemon Pie" by Amy E. Reichert. MJ Boudreaux begins to notice a distance growing between her and husband Chris. After their 20th anniversary, MJ decides to take up poker, Chris's favorite hobby, as a way of giving them a common activity. It launches her on a journey of self-discovery and finding a way to heal the distance and brokenness in her marriage. This was a fun, light read, but I found I had a hard time connecting with the gambling portion of the story.