I'm linking up with
Modern Mrs. Darcy
for this month's quick lit, where I share short and sweet reviews of books I've read in the past month. This month was a little bit slower for me, but I have a few that are in process that I'm excited to share about in next month's Quick Lit!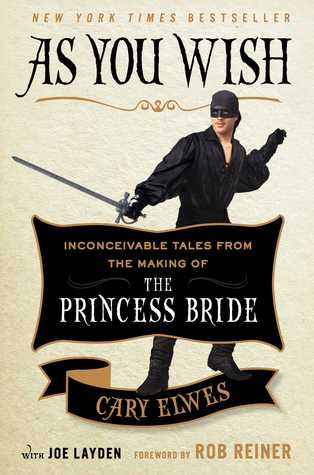 "As You Wish: Inconceivable Tales From the Making of The Princess Bride" by Cary Elwes.
I don't remember when I first saw "The Princess Bride". I do remember I loved the movie and have seen it many, many times since that initial viewing. Even though I haven't seen in years now, it's still one of my favorites and, oh, the quotes from this movie! Reading this book was a real treat. I loved the behind the scenes stories; they make me very eager to re-watch the movie and see what kinds new things I notice now having read about the making of the movie. There were plenty of laugh out loud moments as well. If you are a fan of "The Princess Bride", this book is definitely for you!
"The Best Yes: Making Wise Decisions in the Midst of Endless Demands" by Lysa TerKeurst.
I've read a couple other books by Lysa TerKeurst and love them. It's incredibly easy to relate to her and her stories on the journey of marriage, motherhood, and life. Her latest book is focused on helping women discern between what is good and what is best. Too often, we find ourselves saying "yes" in order to please others, avoid disappointing them, or out of sheer guilt. But saying "yes" all the time can have some big consequences for ourselves and our families. This book helped me so much to begin thinking about the decisions, both big and small, in my own life to see what is going to be the best decision I can make for me in my stage of life. Highly recommend this book!
"Return" by Karen Kingsbury and Gary Smalley
(re-read)
.
This third installment in the Baxter family series focuses primarily on only son Luke--his choices, the ramifications of those choices, and his ultimate return to his family and his faith. This book fell a little flat for me, but I think the point of the story and relationship principle of returning are important ones to discuss.
"Rejoice" by Karen Kingsbury and Gary Smalley
(re-read)
.
The fourth book in the Baxter family series focuses on the oldest daughter Brooke. When her young daughter fights for life and recovery from a drowning, her marriage is threatened. With Brooke's recent return to faith, she clings to her faith in the dark days ahead of her and seeks to find joy in all things. Even with much uncertainty before her, joy helps bring her through the difficulties of her marriage and gradual healing of her daughter.