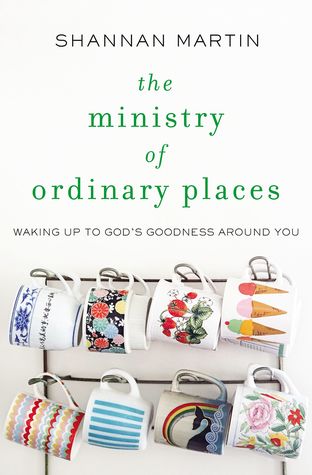 What a beautiful book! In "The Ministry of Ordinary Places", Shannan Martin shares candidly the story of how her family put down roots in a neighborhood she never imagined living in and seeing Jesus in the midst of it all. Life changed unexpectedly for her family when God called them from the rural to the urban. Plunked down in the middle of a city where they knew no one, they set out to truly bloom where they were planted, getting to know their neighbors and investing in the local low-income school and dying church. While it's a story of how God has used their family, it's more a story of how God has changed them in the midst of it all. By allowing their vision for life to be shaped by God, they have seen how He has worked in their own lives as they have opened themselves up to be changed and challenged by it all.
I fell in love with this book from the very beginning. Martin writes in a warm, winsome way that draws the reader in right away. The book is divided into four sections. I personally resonated with the second section in particular, which focused on hospitality. So often, we hide behind excuses instead of opening our homes for a meal or a simple chat with a neighbor. Martin reminds us that the hospitality is the point--not the state of our homes or the quality of the meal. Hospitality can be offered by inviting someone over for take-out or by meeting up a local playground. I was challenged to think how I can start opening my home to make room for people at my table.
What a gift this book is. Wise words for a challenging, polarizing time in our society. Simple acts of neighborliness, investing deeply where you are planted, and entering into the lives of others even in the midst of our own brokenness can have more impact than we can ever imagine.
"As Christ-followers, we are called to be long-haul neighbors committed to authenticity and willing to take some risks. Our vocation is to invest deeply in the lives of those around us, devoted to one another, physically close to each other as we breathe the same air and walk the same blocks. Our purpose is not so mysterious after all. We get to love and be loved deeply right where we're planted, by whomever happens to be near. We will inevitably encounter brokenness we cannot fix, solve, or understand, and we'll feel as small, uncertain, and outpaced as we have ever felt. But we'll find our very lives in this calling, to be among people as Jesus was, and it will change everything." (p. xviii)
(I've received this complimentary book through the
BookLook
program in exchange for a review.
A positive review was not required and the views expressed in my review are strictly my own.)