I'm linking up with
Modern Mrs. Darcy
for this month's quick lit, where I share short and sweet reviews of a few books I've read in the past month (or so). You can also find me over at
Goodreads
if you are interested in other books I've read or reviewed.
"If You Only Knew" by Jamie Ivey. I love, love, love listening to Jamie's podcast, "
The Happy Hour with Jamie Ivey
". I love her honesty in interviewing her guests and the way she has shared pieces of her story, so I knew this book was one that I had to pick up. It didn't disappoint. She shares her story with the same candidness and openness that comes through on her podcast. Without holding back, she makes her story accessible, even if you haven't experienced what she has. In everything she seeks to point people back to Jesus as the Author and Redeemer of our stories. A lovely book that I highly recommend!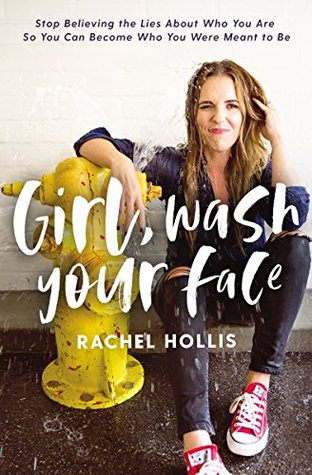 "Girl, Wash Your Face" by Rachel Hollis. I initially heard about Rachel on
Jen Hatmaker's podcast
(I know, I listen to a lot of podcasts!). As she shared the premise of her book, I was captivated and knew it was one I needed to immediately order. Guys, I loved this book. Each chapter focuses on one lie that she (and we) told herself. She walks the reader through her own experience in battling that particular lie and shares how she eventually worked through it. This is a fabulous book that SO MANY women can relate to, and Rachel shares in such a down-to-earth way. One of the best books of the year thus far.
"The Immortal Life of Henrietta Lacks" by Rebecca Skloot. This book was a fascinating look at the life, death, and immortality of a young black woman named Henrietta Lacks. Diagnosed in 1951 with an aggressive cervical cancer, her biopsied cells were taken without her knowledge or consent and given to a researcher who was attempting to to grow human cells for scientific research. She died shortly after, but her cells replicated and became known as HeLa. They have been vital in creating the polio vaccine and studying cancer, among other things. However, her family was never told about Henrietta's contribution to science and the world was never told about the woman who faded to obscurity while her cells lived on. This book shares her story, the story of her family, and the scientific progress that has been made as a result of these cells.
"The Ministry of Motherhood" by Sally Clarkson. Ah, Sally Clarkson is definitely my mentor for motherhood. I love her insights, her encouragement, her stories of parenting. In this book, she shares how moms can disciple their children by reaching their hearts. It's perfect for a devotional time or a small group to go through. There are five sections; each section opens with an imaginative retelling of a gospel story, then follows with several chapters tied to the theme of the section. Each section concludes with questions that can be used for personal reflection or group discussion. A lovely book!
"The Read-Aloud Family" by Sarah Mackenzie. I regularly listen to Sarah's podcast, "
The Read-Aloud Revival
". As an avid reader, I love introducing my kids to books in the hopes that they will love reading as well. This offering is a wonderful resource to encourage parents in building a bookish culture in their own homes. The final part of the book includes her carefully curated collection of read-alouds for various age ranges. If you need some inspiration or fresh vision to keep reading to your kids, this book (and podcast) can help!