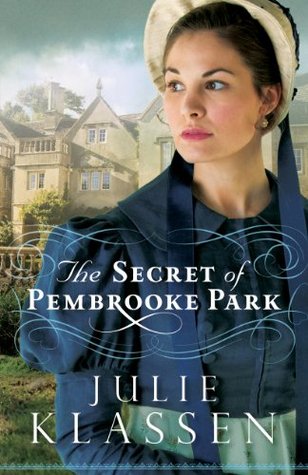 "The Secret of Pembrooke Park" is the most recent Regency novel from Julie Klassen. Abigail Foster's family faces financial ruin due to a bad investment by her father. After being forced to sell their family home and find more reasonable accommodations, the Fosters are surprised to learn that a distant relation is allowing them to lease Pembrooke Park, a home that has been left vacant for nearly twenty years. Abigail oversees the work at Pembrooke and discovers that there is more to the manor, and family history, than meets the eye. Rumors of treasures abound and secrecy shrouds Pembrooke Park. Abigail finds herself in the center of the mystery, made even more intriguing when letters and old journal pages begin to appear in her mail.
This story drew me in completely with the mystery and intrigue. The romance is well-done and not overly sappy. The overall plot keeps the reader engaged from the beginning. The characters were well-developed and likeable. Having been a fan of Klassen's since the beginning, I found this book to be among her best works and definitely a significant improvement over her most previous work, "The Dancing Master". A charming book that I will definitely read again!
(I've received this complimentary book from
Bethany House Publishers
through the Book Blogger program in exchange for a review.
A positive review was not required and the views expressed in my review are strictly my own.)